!!!Now Updates Seven days a week!!!
Members Gallery Updated May 4th 2016
!!!Now Updated 7 Days a Week!!!
WHAT'S HAPPENING AT THE LAIR!!
Welcome to my lair, things are going pretty good lately, we have a busy shooting schedule the rest of the month so that Gigi and I can make our annual pilgamiage to Bound Con in Munich, Germany. We will be spending time with our good friends in Italy first, Tony Houston in Parma and then down to Rome to see Lorna and Franco Saudelli and spend some quality time with them and a few of our Italian supporters. Then back to Germany for the convention, Gigi is returning to the states right after the convention but I will be spending a week after BoundCon exploring historical sites starting in Poland and working my way west to Normandy France. I hope to see some of my German friends and supporters of the Lair during my travels. So if anyone in Europe wishes to see me please feel free to email me to see what we can work out.

This week at the Lair we started out with from out of my trunk: Local Latina Angelina is brutally reverse prayer hogtied on the bed. And beautiful buxom JJ Plush is tightly hogtied in her basement. Her neighbor Riley Rose comes to rescue her but ends up hogtied next her her.

On Tuesday buxom redhead Sarah Brooke is pulled from a barrel with her elbows cuffed tightly together behind her back and is left hanging by her elbows from the chain.

Our bishop girl this week beautiful blond Bella Lovez pulled up into a creully pirouette strappado.

Thursday's boots in bondage has naive babysitter Fiona Sinclair shocked by Poindexter and left tightly bound and gagged to await one of his science experiments.

Our featured Damsel in Distress on Friday is super fit secretary Alexis Rain bound and gagged by her stalker, stripped to her lingerie and hogtied.

Saturday's super heroine in peril features red head crime fighter Constance captured by the Hunter's henchmen and left elbow tied and locked in his tiger cage. The Hunter pulls her from the cage and ties her up tight and hanging from his chain hoist.

And we finish off with sexy MILF babysitter Caroline Pierce tricked into rope and left hogtied and gagged by the young brats.

Have a great week of bondage and thanks for your support.



Jim Hunter
HANDCUFF GIRL UPDATED EVERY TUESDAY

05-03-2016

Sarah Brooke
Photos continued in members area.

BISHOP GIRL UPDATED EVERY WEDNESDAY

05-04-16

Bella Lovez
Photos continued in members area.

BOOTS AND BONDAGE UPDATED EVERY THURSDAY

04-28-16

Lexi Lane
Photos continued in members area

DAMSELS IN DISTRESS UPDATED EVERY FRIDAY

04-29-2016

Stefania Mafra
Photos continued in members area.

WILLIE GIRL UPDATED EVERY SUNDAY

05-01-2016

Allure Skye
Photos continued in members area.

SUPER HEROINE &
FANTASY GIRLS UPDATED EVERY SATURDAY

04-30-2016

Nicole Peters
Photos continued in members area.
HUNTER VISION VIDEO UPDATES
HUNTER VISION
VIDEO UPDATE
05-04-16
Bella Lovez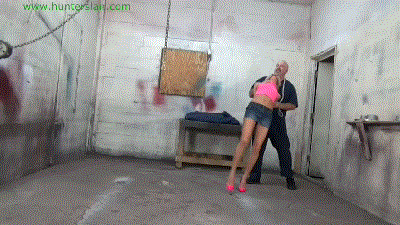 UP COMING HUNTER VISION VIDEO UPDATES

Handcuff

Bishop

Boots in Bondage

Damsels in Distress

Superheroine Fantasy

Willie
OUT OF MY TRUNK UPDATE

05-02-16
Angelina

JJ Plush &
Riley Rose

OUT OF MY
TRUNK
UPDATE

04-25-16
Samantha Leigh & Penelope Czar

Sirena Scott




OUT OF MY TRUNK
VIDEO UPDATE

05-02-16
Angelina

JJ Plush &
Riley Rose

Coming Next Monday







ARCHIVED PHOTO SETS

NO LONGER UPDATED BUT ARE STILL SHOWING IN THE MEMBERS SECTION

BARELY LEGAL
PHOTO SETS

OUT OF MY TRUNK
MAGAZINE COVERS