!!!Now Updates Seven days a week!!!
Members Gallery Updated December 8, 2016
!!!Now Updated 7 Days a Week!!!
WHAT'S HAPPENING AT THE LAIR!!
Welcome to my lair, Starting on August 1st we changed the Monday 'out of my trunk' format a little. Instead of two 'out of my trunk' video clips we will be putting up one 'trunk' archive video clip. The other Monday update clips will be us bring back the old Saturday bondage endurance video clips. That feature involved pretty Damsels left in strict bondage of prolonged periods or long running story line video clips. The clips will be at least 15 minutes in duration, most of them are over 20 minutes. Due to bandwidth and space limitations on my server it is no possible to update with video clips much longer then 10 minutes everyday, without reducing the number of clips available in the archives. So the endurance video clips will remain up for two weeks before coming down to be replaced by another.

We are starting off with girl next door Angela tied kneeling in the pit. The Hunter then hangs a heavy steel ball from her crotch rope and leaves her struggling to untie the knots with her teeth. And our full length video with Lauri Adverb left handcuffed and ballgagged in the Hunter's basement with the key to her handcuffs hanging from a nail over her head. She struggles to reach the key that is just out of reach.

On Tuesday's handcuffed hottie is sexy petite Michelle Peters handcuffed to a chair in the Hunter's gas chamber.

Our bishop girl is flexible bendy Gmoras is bound hanging by her bound elbows in the Hunter's basement then he pulls her up onto her tip-toes by a crotch rope.

Thursday's boots in bondage smoking hot Brandon pushed onto the sofa bound, gagged and blindfolded. She tries to find the door to escape but is recaptured and strictly tied to a chair.

Our Damsel in Distress on Friday features has sexy petite Bailey Paige tying herself up and getting horny. She begs someone to tie her arms behind her back so she can't play with her pussy.

Saturday's super heroine in peril has Wonder Broad Caroline Piece in steel restrains bound over a steel drum

Sunday has busty MILF Brenda handcuffed, her tits are tightly cuffed and attached to an overhead pulley. The Hunter cranks her up onto her toes by her cuffed tits and leaves her struggling to try to slip the cuffs off her tits and escape.

Have a great week of bondage and thanks for your support.



Jim Hunter
HANDCUFF GIRL UPDATED EVERY TUESDAY

12-06-2016

Michelle Peters
Photos continued in members area.

BISHOP GIRL UPDATED EVERY WEDNESDAY

12-07-16

Gmoras
Photos continued in members area.

BOOTS AND BONDAGE UPDATED EVERY THURSDAY

12-08-16

Brandon

Photos continued in members area

DAMSELS IN DISTRESS UPDATED EVERY FRIDAY

12-02-2016

Reagan Lush

Photos continued in members area

WILLIE GIRL UPDATED EVERY SUNDAY

12-04-2016

Caroline Pierce

Photos continued in members area.

SUPER HEROINE &
FANTASY GIRLS UPDATED EVERY SATURDAY

12-03-2016

Brenda as ~Leopard Woman~
Photos continued in members area.
HUNTER VISION VIDEO UPDATES
HUNTER VISION
VIDEO UPDATE
12-08-16

Brandon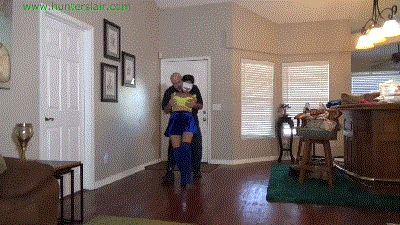 UP COMING HUNTER VISION VIDEO UPDATES

Handcuff

Bishop

Boots in Bondage

Damsels in Distress

Superheroine Fantasy

Willie
OUT OF MY
TRUNK
UPDATE

11-28-16
Kiley

Destine

OUT OF MY
TRUNK
UPDATE

12-05-16
Sammie Sparks

Lauri Adverb




OUT OF MY TRUNK
AND ENDURANCE
VIDEO UPDATE

12-05-16
Angela

Lauri Adverb

Coming Next Monday







ARCHIVED PHOTO SETS

NO LONGER UPDATED BUT ARE STILL SHOWING IN THE MEMBERS SECTION

BARELY LEGAL
PHOTO SETS

OUT OF MY TRUNK
MAGAZINE COVERS