!!!Now Updates Seven days a week!!!
Members Gallery Updated September 24th 2016
!!!Now Updated 7 Days a Week!!!
WHAT'S HAPPENING AT THE LAIR!!
Welcome to my lair, Starting on August 1st we changed the Monday 'out of my trunk' format a little. Instead of two 'out of my trunk' video clips we will be putting up one 'trunk' archive video clip. The other Monday update clips will be us bring back the old Saturday bondage endurance video clips. That feature involved pretty Damsels left in strict bondage of prolonged periods or long running story line video clips. The clips will be at least 15 minutes in duration, most of them are over 20 minutes. Due to bandwidth and space limitations on my server it is no possible to update with video clips much longer then 10 minutes everyday, without reducing the number of clips available in the archives. So the endurance video clips will remain up for two weeks before coming down to be replaced by another.

From out of my trunk this week has curvy Spirit struggles with the Hunter and breaks free running through the old warehouse bound and gagged. And continuing with our endurance video update sexy blond MILF Sammie Sparks is captured by her business rivals and suffers brutal bondage and breast torture.

On Tuesday busty neighbor girl Lexi Lane is hogcuffed and forced to lay on her brutally cuffed tits.

Our bishop girl is Goth girl rope slut Lydia Black tightly bound and back arched with a brutally tight crotch rope.

Thursday's boots in bondage has sexy Carmen Valentina cruelly hogtied on the Hunter's table.

Our Damsel in Distress on Friday features haughty blond pixie Roxie Rae creully hogtied in her living room.

Saturday's super heroine in peril has catsuited, masked busty Ashley Graham hogtied on the bed.

Sunday has busty blond MILF Amanda Foxx brutally bound in black electrical tape then her tits are cruelly wrapped up in tape.

Have a great week of bondage and thanks for your support.



Jim Hunter
HANDCUFF GIRL UPDATED EVERY TUESDAY

09-20-2016

Lexi Lane
Photos continued in members area.

BISHOP GIRL UPDATED EVERY WEDNESDAY

09-21-16

Lydia Black
Photos continued in members area.

BOOTS AND BONDAGE UPDATED EVERY THURSDAY

09-22-16

Carmen Valentina

Photos continued in members area

DAMSELS IN DISTRESS UPDATED EVERY FRIDAY

09-23-2016

Roxie Rae
Photos continued in members area.

WILLIE GIRL UPDATED EVERY SUNDAY

09-18-2016

Angel Rose

Photos continued in members area.

SUPER HEROINE &
FANTASY GIRLS UPDATED EVERY SATURDAY

09-24-2016

Ashley Graham
Photos continued in members area.
HUNTER VISION VIDEO UPDATES
HUNTER VISION
VIDEO UPDATE
09-23-16
Roxie Rae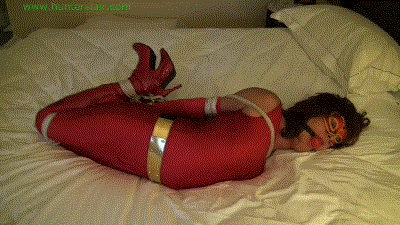 UP COMING HUNTER VISION VIDEO UPDATES

Handcuff

Bishop

Boots in Bondage

Damsels in Distress

Superheroine Fantasy

Willie
OUT OF MY TRUNK UPDATE

09-19-16
Sammie Sparks

OUT OF MY
TRUNK
UPDATE

09-12-16
Carissa Montgomery

Pandora w/Natasha




OUT OF MY TRUNK
AND ENDURANCE
VIDEO UPDATE

09-19-16
Spirit

Sammie Sparks

Coming Next Monday







ARCHIVED PHOTO SETS

NO LONGER UPDATED BUT ARE STILL SHOWING IN THE MEMBERS SECTION

BARELY LEGAL
PHOTO SETS

OUT OF MY TRUNK
MAGAZINE COVERS