!!!Now Updates Seven days a week!!!
Members Gallery Updated October 20th 2016
!!!Now Updated 7 Days a Week!!!
WHAT'S HAPPENING AT THE LAIR!!
Welcome to my lair, Starting on August 1st we changed the Monday 'out of my trunk' format a little. Instead of two 'out of my trunk' video clips we will be putting up one 'trunk' archive video clip. The other Monday update clips will be us bring back the old Saturday bondage endurance video clips. That feature involved pretty Damsels left in strict bondage of prolonged periods or long running story line video clips. The clips will be at least 15 minutes in duration, most of them are over 20 minutes. Due to bandwidth and space limitations on my server it is no possible to update with video clips much longer then 10 minutes everyday, without reducing the number of clips available in the archives. So the endurance video clips will remain up for two weeks before coming down to be replaced by another.

Gigi and I are in LA today this week. We had a huge birthday bash to attend at Dominic Wolfe's place for a number of our LA friends. During our visit are staying in downtown LA at our good friend Damon Pierce's loft, he and Zooey Zara are over in Germany to attend Venus Fair in Berlin then a smaller BoundCon in Munich before heading to Spain for a working vacation. They have graciously left us a key to their loft for our visit. We will be working with a number of California girls during our stay. Our good friend Dixie Comet, Star Nine and Chrissy Marie we also plan on shooting with Carolina Crush if she can fit us in.

From out of my trunk this week has one of the Lair submissive bondage loving slut Kali is tied to a post on her knees with her arms jerked up behind her back in a strappado. Sexy Domme Betty Jaded has Kali clean her boots with her mouth and then lick her stocking soled feet. And continuing with our endurance video update Briella Jaden gets much more then she expected during her bondage modeling shoot, tightly ball tied and left struggling on the floor.

On Tuesday petite Bailey Paige is hogcuffed and ballgagged on an old dirty mattress.

Our bishop girl is fiesty Fayth on Fire who reluctantly volunteers in an instructional clip on how to bind a wench in a chicken wing hogtie.

Thursday's boots in bondage has pretty girl nextdoor Rachel Adams bound in a cruel reverse prayer hogtie.

Our Damsel in Distress on Friday features leggy Ren Smolder grabbed from behind and tightly bound and gagged. She makes a run for the door but is captured before she can make her escape and end up hogtied on her bed.

Saturday's super heroine in peril has busty Amanda Foxx tied down to the Hunter's table. Her big tits are choked in cuffs and nipple clamps.

Sunday has sexy MILF Gigi grabbed from behind and cruelly bound and gagged. She tries to crawl through the house in tightly bound and gagged and open the front door. But her escape fails and she ends up hogtied and goat roped on the floor.

Have a great week of bondage and thanks for your support..



Jim Hunter
HANDCUFF GIRL UPDATED EVERY TUESDAY

10-18-2016

Bailey Paige
Photos continued in members area.

BISHOP GIRL UPDATED EVERY WEDNESDAY

10-19-16

Fayth on Fire
Photos continued in members area.

BOOTS AND BONDAGE UPDATED EVERY THURSDAY

10-20-16

Rachel Adams

Photos continued in members area

DAMSELS IN DISTRESS UPDATED EVERY FRIDAY

10-14-2016

Lylah Ryder

Photos continued in members area

WILLIE GIRL UPDATED EVERY SUNDAY

10-16-2016

Amanda Foxx

Photos continued in members area.

SUPER HEROINE &
FANTASY GIRLS UPDATED EVERY SATURDAY

10-15-2016

Carmen Valentina
Photos continued in members area.
HUNTER VISION VIDEO UPDATES
HUNTER VISION
VIDEO UPDATE
10-19-16

Fayth on Fire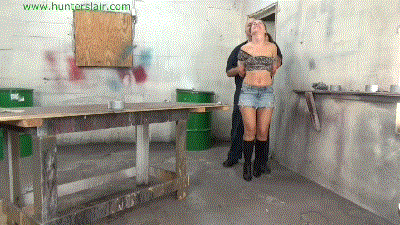 UP COMING HUNTER VISION VIDEO UPDATES

Handcuff

Bishop

Boots in Bondage

Damsels in Distress

Superheroine Fantasy

Willie
OUT OF MY TRUNK UPDATE

10-17-16
Kali w/Betty Jaded

Lauri Adverb

OUT OF MY
TRUNK
UPDATE

10-10-16
Natasha

Destiny




OUT OF MY TRUNK
AND ENDURANCE
VIDEO UPDATE

10-17-16
Kali w/Betty Jaded

Lauri Adverb

Coming Next Monday







ARCHIVED PHOTO SETS

NO LONGER UPDATED BUT ARE STILL SHOWING IN THE MEMBERS SECTION

BARELY LEGAL
PHOTO SETS

OUT OF MY TRUNK
MAGAZINE COVERS